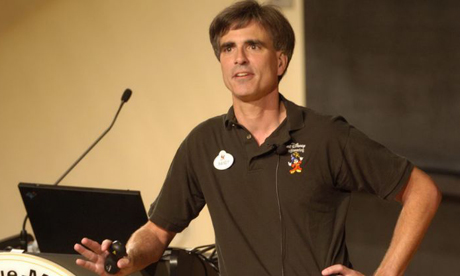 Randolph Pausch's final farewell lecture, "Achieving Your Childhood Dreams" was a very moving and inspiring speech. I was a little weary of watching a hour and fifteen minute speech, but I am very glad I did now that I have finished it. I feel like I learned a lot from watching this video that I will be able to use in my future career as a teacher. The one thing that really stuck out to me the most in this video that really influenced me was the fact that, even though Randy was dying, he was still trying to make a difference in other people's lives instead of being like "poor me". People like Randy are some of the most inspiring people in this world and I am very glad I was able to watch this video.
The lessons he taught in this video was not your typical lessons you would expect from a college professor. His lessons taught you how to achieve your childhood dreams, or help someone else achieve theirs. One of his lessons that he repeated many times was the Brick Wall lesson. Randy stated that brick walls are not placed in your way to stop you, they are made to see if you really want what you are working for, because if you do, you will break the brick wall down. Another lesson he taught was that the best thing to teach your students is how to be self reflective. He had many experiences in being self reflective and Randy made it clear that being self reflective helped him get to where he is now.
Another one of Randy's lesson's was that students need to have fun while they're learning to actually
want
to learn. He mentioned at one point how his parents let him paint his room while he was in high school and how he thinks that every parent should let their children paint their room. I feel like this was one of his key points in his whole speech. Randy felt that being yourself and having fun in life made you a better person overall, and I completely agree.
Something else Mr. Pausch said that I liked was when he said that there is a good way and a bad way to tell someone "I don't know." When I become a teacher I am going to keep this lesson in mind, because I think the way you talk to your students has a big impact on how they view you as a teacher and how they feel about themselves. Another lesson he taught was the fact that when you give a student something to accomplish and they do an amazing job, to not just say "good job!" you must also say "I know you can do even better." Randy believed in pushing his students to achieve their dreams and then pushing them even further, because that's what his professors and mentors did for him.
Randy's speech was a wonderful, inspiring, and meaningful lecture that made me feel like I could do anything I put my mind too. I hope that one day I will be able to be a great teacher like he was. I feel like Randy's lessons were lessons that everyone should learn in their life, not only to use in school, but also in life. I really enjoyed watching this video and I feel like it taught me a lot. Thank you Dr. Strange for getting us to watch this video!